Lucha Libre MX Women's Championship
From Luchawiki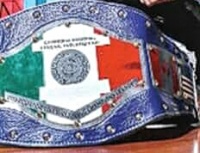 The Lucha Libre MX Women's Championship is a professional wrestling women's championship promoted by Lucha Libre MX. It was created in June 16, 2015.
Current Champion
[[File:|left|200px]] Guerrera Negra is the current champion. On June 15, 2018 in Arena Idolos del Ring there was a title defense scheduled in which the champion Krazystar did not show up to the match, hence Guerrera Negra was declared the new champion by default.
History of Championship
On June 6, 2015 in order to crown their first ever Lucha Libre MX Women's Champion. There was a Cuadrangular Suicida Match took place in Gimnasio Stardust in which were involved Keira,& Sadica against Sahori & Star Pink. Final Team were Keira and Sadica who had to compete in a singles match. Keira became the first champion after she defeated her rival.
Crazy Star was the third champion. She won a Cuadrangular match against Keira. This match was on October 2, 2016 at Unidad Deportiva Emiliano Zapata in Celaya, Guanajuato. This match involved Luna Magica & Magic Girl. Krazystar won the final to become the 3rd champion.

Champions Listing
Gallery of Champions