Legdrop
From Luchawiki
Jump to navigation
Jump to search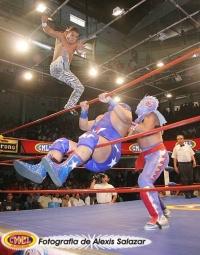 Exactly what the names says, sometimes called 'guillotine. Leg is usually dropped on the chest.
A flying leg drop is a leg drop you do off of the turnbuckle. Luchadors who do flying leg drops include Black Warrior and Psicosis.
Extreme Tiger & Volador Jr. hang their victims in between the ropes before dropping them with a springboard leg drop.
Mini Black Warrior does a legdrop from inside the ring to the floor.