KAOZ Cruiserweight Championship
From Luchawiki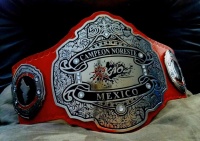 Current Champion
Emperador Azteca is the current champion. He won the championship on May 19, 2019 at Arena Coliseo Monterrey.

History of Championship
The KAOZ Cruiserweight Championship is a lucha libre title, regulated by the promotion KAOZ Lucha Libre. All wrestlers in the cruiserweight class are eligible for the championship, and the title may only be defended in KAOZ. Note: Belt Says "Noreste" (Northeast) Champion although it's a Cruiserweight Championship.

Champions Listing
Gallery of Champions