FLLM Masters Championship
From Luchawiki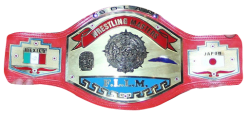 The FLLM Masters Title is a professional wrestling championship for lucha libre masters/legends. The belt was introduced in 2011 when Solar defeated Negro Navarro in the mytical Korakuen Hall of Japan to win the title.
Current Champion
Solar is the current champion. He defeated Negro Navarro on May 9, 2015 in Tlalnepantla, Mexico State.
History of Championship
Championship won by Solar against Negro Navarro in Japan. Not to be confused with the South America Light Heavyweight Championship, another championship frequently fought for by Negro Navarro & Solar.
Champions Listing
#
Champion(s)
Defeated
Date
Location
decision match to crown the first champion
1
Solar
Negro Navarro
2011.06.21
Korakuen Hall - Bunkyo, Tokyo
1
Negro Navarro
2011.10.16
Arena Coliseo Coacalco - Coacalco, Mexico State
2
Negro Navarro
2011.10.19
Arena Coliseo San Luis Potosi - San Luis Potosi, San Luis Potosi
3
El Dandy
2011.12.15
Gimnasio Juan de la Barrera - Mexico City
4
Negro Navarro
2012.01.29
Arena Lopez Mateos - Tlalnepantla, Mexico State
5
El Satanico
2012.03.02
Cancha German Evers - Mazatlan, Sinaloa
6
Negro Navarro
2012.03.25
Arena Coliseo Guadalajara - Guadalajara, Jalisco
7
Latino
2012.04.25
Gimnasio Milo Martinez - Monclova, Coahuila
8
Latino
2012.04.26
Arena Pavillon del Norte - Saltillo, Coahuila
9
Negro Navarro
2012.08.16
Arena Naucalpan - Naucalpan, Mexico State
2
Negro Navarro
Solar
2012.12.01
Arena Lopez Mateos - Tlalnepantla, Mexico State
1
Solar
2012.12.15
Gimnasio Gloria - Mexico City
2
Texano Jr.
2013.01.27
Arena Naucalpan - Naucalpan, Mexico State
3
Solar
2013.06.03
Arena Cuatro Caminos - Nuevo Laredo, Tamaulipas
3
Solar [2]
Negro Navarro
2013.07.07
Arena Naucalpan - Naucalpan, Mexico State
4
Negro Navarro [2]
Solar
2014.02.18
Arena Coliseo Guadalajara - Guadalajara, Jalisco
1
Solar
2014.04.06
Arena Coliseo Coacalco - Coacalco, Mexico State
2
Solar
2014.04.27
2300 Arena - Philadelphia, Pennsylvania
3
Saeta del Ring
2014.05.04
Arena Pinkusky - Campeche, Campeche
4
Solar
2014.09.16
Deportivo Oceania - Mexico City
5
Pirata Morgan
2014.10.05
Arena Lopez Mateos - Tlalnepantla, Mexico State
6
Hechicero
2014.12.25
Arena San Juan Pantitlán - Nezahualcoyotl, Mexico State
7
Solar
2015.01.15
Auditorio Municipal de Nueva Italia - Múgica, Michoacán
8
Solar
2015.02.26
Arena Aficion - Pachuca, Hidalgo
9
Zoom Driver
2015.03.01
Auditorio Municipal de Tolcayuca - Tolcayuca, Mexico State
5
Solar [3]
Negro Navarro
2015.05.09
Arena Lopez Mateos - Tlalnepantla, Mexico State
 
 
title change
successful title defense
championship matches which were announced, but results were not found
Gallery of Champions