CMLL World Super Lightweight Championship
From Luchawiki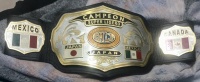 Championship Name This championship has be referred to by multiple names during it's existence. It started as the CMLL Japan Super Lightweight Championship, for use by the promotion during it's tours of Japan. It returned in 2003 as the CMLL World Super Lightweight Championship. The name has more recently been streamlined to CMLL World Lightweight Championship during Virus' fourth reign.
Current Champion
Kamaitachi is the current champion, he defeated Dragon Lee II on January 24, 2016 in Korakuen Hall Tokyo, Japan.
History of Championship
CMLL created a Super Lightweight championship to be fought for when they toured Japan in 1999 and 2000. The only champion was Masato Yakushiji, and the belt went unmentioned after CMLL stopped touring Japan.
CMLL brought back the Super Light (Super Ligero) championship in 2003 due to the strong positive reaction to a series of matches between the NJPW-LA Havana Brothers team and a CMLL tecnico trio of Ricky Marvin, Virus, and Volador Jr.. By creating a new CMLL Championship, they didn't need to take away a belt from a current champion and they could allow anyone to compete for the title, unlike the Mexican Championships.
The participants in the championship opening cibernetico were Super Comando, Loco Max, Sangre Azteca, Ricky Marvin, Tigre Blanco, Rocky Romero (as Havana Brother I), Ricky Reyes (as Havana Brother II(b)), Puma (as Havana Brother III), Neutron, Sombra de Plata, Volador Jr., and Virus. A heavily clipped version, showing only the final two eliminations, was shown on television.
Virus was quickly set up as the first challenger, and defeated Romero with little trouble. Only the last fall was shown on television. At that point, the NJPW-LA crew were done in CMLL, and the championship dropped to the level of the least visible CMLL Championships.
The championship appeared to be forgotten when Romero was brought to Arena Mexico with no previous buildup. Romero won the championship near the end of 2004, and the title appeared to leave CMLL, with no future Mexico title defenses scheduled at this time.
Tommy Williams won the championship from Romero in a 2005 Labor Day weekend show, though the results weren't well publicized at the time (it was only apparently when Williams was defending the championship on other shows much later.) Romero won the championship for the third time on an AWS show.
The championship continued to be inactive, even thru a multi-month stint of returning of to CMLL in 2008, this time as the masked Grey Shadow. The championship continued to be ignored after Romero jumped to AAA late in 2008.
In April 2009, out of the blue and clearly as filler for a fan appreciation day show, CMLL announced a tournament to decide a new champion. Young tecnico prospect Mascara Dorada won the championship. Dorada was a mid-level wrestler at the time of the championship cibernetico, and the clear favorite against a group of undercard wrestlers who were a position or two below him on the card at the time.
Mascara Dorada was scheduled to make his first defense in his hometown of Guadalajara on May 8, 2009, but the show was canceled due to flu outbreak. The defense against Virus took place in August instead. Dorada has defended it several times since, and the title has occasionally listed simply as the lightweight championship.
After five successful defenses, and winning and losing other championships, Mascara Dorada gave up this title on April 7, 2011 at a CMLL press conference. Dorada explained he was moving up in weight classes, including challenging Jushin Liger for the CMLL World Middleweight Championship in Japan in May. There was no announcement about what would become of this championship.
Champions Listing
#
Champion(s)
Defeated
Date
Location
decision match for first champion
1
Masato Yakushiji
Rencor Latino
1999.02.27
Nagoya, Japan
2
Virus
Masato Yakushiji
1999.11.25
Korakuen Hall - Tokyo
1
Lyguila
2000.08.02
Shizuoka, Japan
3
Ricky Marvin
Virus
2000.08.06
Yokohoma, Japan
4
Virus [2]
Ricky Marvin
2000.??.??
?
5
Ricky Marvin [2]
Virus
2000.11.29
Acapulco, Guerrero
CMLL stops running Japan tours, championship vacant & inactive
decision match with the finalists of a twelve man cibernetico on 2003.09.05
6
Rocky Romero
Volador Jr.
2003.09.12
Arena Mexico
7
Virus [3]
Rocky Romero
2003.11.14
Arena Mexico
1
Eddy Montana
2004.06.13
Arena Coliseo De Guadalajara
8
Rocky Romero [2]
Virus
2004.12.10
Arena Mexico
9
Tommy Williams
Rocky Romero
2005.09.15
Los Angeles
1
Webster Dauphiney
2005.11.26
Los Angeles
10
Rocky Romero [3]
Tommy Williams
2006.01.20
Los Angeles
1
Mikey Nicholls
2006.08.25
Santa Monica, California, United States
tournament to decide new champion announced on 2009.04.03, championship inactive for years prior
final of torneo cibernetico, also included Ángel de Oro, Ángel de Plata, Inquisidor, Pegasso, Pólvora, Rey Cometa, Súper Comando & Tiger Kid
11
Mascara Dorada
Angel Azteca Jr.
2009.04.07
Arena Mexico
1
Virus
2009.08.09
Arena Coliseo Guadalajara
2
Dragon Rojo Jr.
2009.11.08
Arena Coliseo Guadalajara
3
Dragon Rojo Jr.
2010.04.12
Arena Puebla
4
Dragon Rojo Jr.
2010.05.02
Arena Coliseo Guadalajara
5
Averno
2010.07.11
Arena Coliseo Guadalajara
Dorada vacates championship on 2011.04.07 to move up in weight classes
16 man tournament to determine new champion
12
Virus [4]
Guerrero Maya Jr.
2011.06.08
Arena Mexico
1
Stuka Jr.
2011.08.30
Arena Coliseo Guadalajara
2
Dragon Lee
2011.11.28
Arena Puebla
3
Fuego
2012.10.01
Arena Puebla
4
Bogar
2013.07.07
Arena Coliseo San Luis Potosí, San Luis Potosí, San Luis Potosí
5
Guerrero Maya Jr.
2013.10.06
Arena Mexico
6
Fuego
2014.06.16
Arena Mexico
7
Stigma
2014.07.14
Arena Puebla
8
Dragon Lee II
2014.12.09
Arena Mexico
13
Dragon Lee II
Virus
2015.04.05
Arena Mexico
1[1]
Kamaitachi
2015.06.14
Arena Pepe Cisneros, Oaxaca, Oaxaca
2[2]
Kamaitachi
2015.07.13
Arena Puebla
3
Kamaitachi
2015.08.30
Arena Mexico
4
Kamaitachi
2015.12.04
Arena Mexico
5
Virus[3]
2016.01.23
Korakuen Hall
14
Kamaitachi
Dragon Lee II
2016.01.24
Korakuen Hall - Tokyo
 
 
title change
successful title defense
championship matches which were announced, but results were not found
Gallery of Champions
Also Listed As